SugarCRM/SuiteCRM CUSTOMIZATION
Break new grounds with Auriga services!

Custom modules and fields help you seamlessly organize your CRM system in the same way you organize your work. Extend your CRM system with new modules matching your business needs or enhance the existing modules for easy, efficient, and enjoyable use.

Integrate your CRM system with 3rd party business applications through direct API calls or data feeds using SOAP/REST approaches. With custom plugins, you can integrate your CRM system, for example, with Jira to design a smoother sales process or MailChimp to boost email marketing.

Generate different types of reports using multiple filters or build custom workflow processes allowing automated reporting. Custom reports and dashboards foster accurate forecasting and efficient decision-making, and automated reporting allows you to cut your administrative work in half.

Your CRM system may not reflect the way you organize your products and services or the way you segment your clients. Why not customize it by adding new fields based on your specific business requirements? Get the best of your CRM system by improving the productivity of your sales team.
Vast tech skills set
Our skilled programmers align your CRM system to the size, processes, and operations of your business, enabling workflow automation and maximizing ROI and customer satisfaction. Any tech stack based on Java, C#, .Net, or PHP is supported
Time-proven mature processes
Auriga offers a wide range of SugarCRM/SuiteCRM customization services based on time-proven mature processes we have in place. The highest level of each service provided for each client is ensured by CMMI Level 4 compliance nurtured for years.
Transparent communications
We have adopted open, transparent communications and agile methodologies to keep you on track, while unlocking the full potential of your SugarCRM/SuiteCRM system and making it a competitive tool to increase sales and succeed in your market.
Added value for every customer
Auriga is constantly striving to generate sustained added value for every customer. Our clients benefit from our mobile and web development expertise, cloud storage services, big data analytics, and more.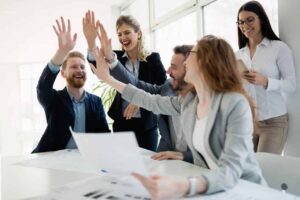 Auriga's Year in Review: Five Biggest Milestones of 2018
The year is quickly coming to an end, and 2019 is about to start. There is always something magical about the start of a new
World's #1 software engineering outsourcing provider:
fully-managed dedicated teams and projects;
new software development, sustaining engineering, software testing