Ensuring Medical Device
Interoperability with Hospitals' Legacy Systems
This 11-page whitepaper provides a detailed overview of challenges that occur while converting legacy systems into IEEE 11073 SDC and shares Auriga's solution development experience in ensuring medical device interoperability with hospitals' legacy systems. We summarize our experience with confidence that it can be applied to most point of care medical devices in the market.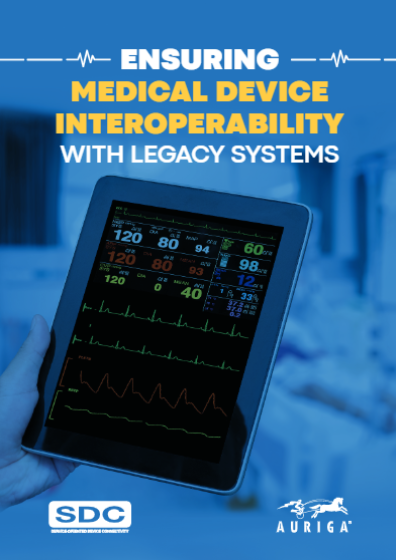 Discover new SDC protocol
Hospital operators and medical device manufacturers in Europe, the U.S., Canada, and Japan are adopting the new SDC (service-oriented device connectivity) standard published by the ISO. SDC complements the healthcare IT standards landscape that typically uses HL7 v2, HL7 FHIR and DICOM allowing the transmission of data between medical devices.
The SDC standard allows for bidirectional or device-to-device communication enabling hospital network security and maintaining safety in highly acute environments. It addresses the most common device-related challenges hospitals and clinics face today, including:
conventional medical device cybersecurity
health data exchange and availability
medical device external control
data visualization and analytics
automated documentation
reducing alarm fatigue in healthcare
This whitepaper describes
Eight challenges of proprietary protocol conversion to SDC protocol (and how to overcome them)
Two potential bottlenecks that most likely compromise the workload of the proprietary protocol converter if not addressed properly
Three steps to embracing manufacturer-independent medical device connectivity for secure health information exchange in hospitals
As a member of the OR.NET e.V. association, committed to international standardization and manufacturer-independent medical device networking, we are sure that this whitepaper will help you investigate the challenges and mitigate the potential risks beforehand.
Complete a simple form to download the whitepaper!
Auriga Inc. offers custom software development and testing for ICU ventilators, patient monitors, infusion systems, central stations and other medical devices in compliance with ISO 13485.

OR.NET e.V. association member for medical device interoperability

ISO 13485 certified to develop high-quality medical device software