In the midst of the COVID-19 pandemic, the world of IT and software development has had to rapidly adapt to new circumstances. With the ongoing crisis, it's vital to take stock of the situation and develop a clear path to maintain your development trajectory while taking the full context of the situation into account.
Below we examine factors and methods to consider when making a decision about outsourced development in the post-COVID-19 world. We look at ways that your business can contextualize and manage outsourced development in this unexpected and unprecedented time.
This article is a result of collaboration of Auriga and Tristan Jung, a Clutch.co expert. Clutch.co is an independent B2B ratings and reviews site known for the credibility and reliability of its rankings. Please visit Auriga's profile to find out what our customers say about us on Clutch!
1. Refine Coordination and Communication
With COVID-19 triggering months of remote work for in-house and outsourced teams, new lines and methods of communication must be formed.
It's estimated that two-thirds of employees are now working remotely in some capacity, and that number might increase with the second wave of the pandemic.
Although many outsourced teams worked remotely before the pandemic, any opportunities to chat in-person or for outsourced teams to gather in their own offices are now gone.
Make sure to scale your infrastructure to what's necessary. A call that was once a simple group-to-group conversation is now a disparate remote meeting. Whether you use Zoom, Google Hangouts, or another method, make sure your coordination and communication are carefully monitored during this time.
Keeping those communications secure should also be a top priority. Daily remote check-ins and streamlined virtual meetings are crucial to ensuring smooth workflows continue.
2. Gauge Economic Impact and Alter Plans
The horrific COVID-19 outbreak has quickly remade the world and affected billions of lives. In addition to the human catastrophe, economic ramifications have been quick and severe.
In these unprecedentedly difficult times, outsourced software development is in a slightly better spot due to its convertibility to remote work and the flexibility of workflow. However, the economic slowdown is sure to affect the IT services market.
While it's tempting to cut development costs at this time, managing the future of your projects or business is more critical than ever. In the near-term, customers will still expect updates and changes as time goes on, especially if your business is directly affected by the pandemic.
In the long-term, holding off on essential fixes now could be very costly in the future. Every company should have a development roadmap, but those roadmaps should be flexible with the market.
Upcoming releases and plans may need to be moved due to circumstances — for example, companies in the healthcare industry must change their priorities immediately as patients delay elective surgeries and the increased need for immediate healthcare spreads around the world.
At the same time, it's important to keep the long-term outlook and maintain strong ties to outsourced teams during this time. Whenever work can proceed normally, you'll want to have maintained as much continuity with an outsourced team as possible. Leaving projects half-finished and switching teams or strategies causes delays and bugs.
3. Consider Production and Server Changes
The pandemic has scrambled global supply chains and full recovery could be years away. Make sure that changes to hardware production, such as semiconductors or screens, are taken into account for your outsourced team.
With medical supplies and necessities at the forefront of production, consumer products like wearables, smartwatches, and smartphones will see delays and cuts. If your roadmap relies on key parts or user adoption, delaying or altering your work will be necessary.
Meanwhile, for companies that are more directly impacted by stay-at-home orders and a lack of users, downsizing server infrastructure or moving your current infrastructure may be necessary. If there are fewer users for your service, there is less need to maintain pre-pandemic levels.
Be sure to keep your team in the loop about these major changes. You should also be aware of the varying situations in specific countries and regions. A McKinsey study of the pandemic projects major differences in economic recovery for countries and areas with high testing rates and public health controls.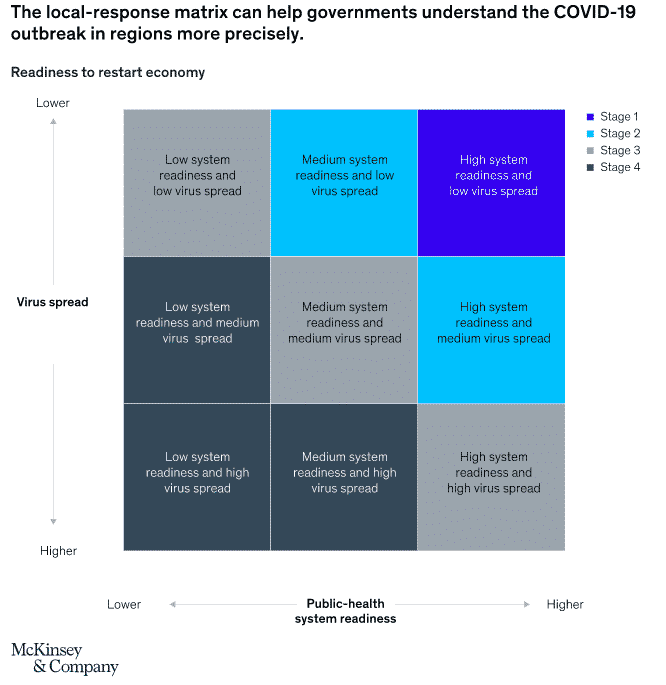 With this rubric in mind, make sure to closely monitor these impacts if you have outsourced teams across the world.
4. Accept That Not Everything is in Your Control
At the end of the day, you are not in control of government decisions and mass movements of people. Maintaining social distancing is going to be the main theme for an indefinite period of time. The best way to stay afloat is to prepare for all scenarios. Don't be hesitant to start looking ahead to the end of 2020 and the start of 2021 when working with your outsourced teams.
Consider the Value of Maintaining Outsourced Teams During the Pandemic
The COVID-19 outbreak has remade the global economy in just a few months. How your company responds during this time could determine growth and opportunity in the next five years.
If your business is facing new challenges, be sure to look into highly experienced vendors and partners that can serve your needs.
While your immediate quarantine world may seem small, outsourced teams across the globe are still reachable at the touch of a button. As people, governments, and businesses look ahead to recovery, these resources will be invaluable down the road.
Tristan Jung is an Editorial Associate for Clutch. He supports the company's business services research.