Interoperability
Auriga enriches automotive vendors with interoperability support to connect a car with a wide variety of systems, applications and devices.
Security
Connected cars need a new approach for security. Auriga offers solutions for securing vehicle data and OTA updates for connected car applications.
Safety
With 28+ years' experience of software development and testing in mission-critical domains, Auriga delivers safe and reliable automotive software.
Chrysler Group Provider
Since 2011 Auriga works for Chrysler Group on development of automotive diagnostic and telematics reporting software and a variety of other projects.
Operating Systems
Windows
Linux
OS X
Android
iOS
Windows Phone
RTOS
Processors
PowerPC
Intel x86
ARM and XScale
MIPS
Interoperability
CAN, CAN FD, CAN PN
LIN, MOST, FlexRay
AWAVE stack
LVDS
Networking
Ethernet
TCP, IPv4, IPv6
WiFi, BlueTooth,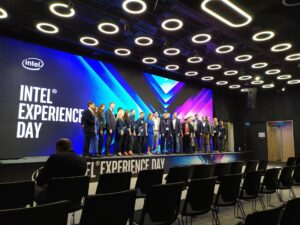 Auriga Attends Intel Experience Day 2019
Intel Experience Day 2019, organized by Intel, one of the major innovative hardware and technology corporations worldwide, took place in Moscow at the end of
Auriga Presents at Digitalization 2019 Forum
The second Digitalization Forum took place at Lomonosov Moscow State University, Moscow, Russia, at the end of October. The forum gathered together Russian and international...
BroadVision: "Auriga Is a Core Component of Our Team"
One of Auriga's goals is establishing long-term trustful partnerships with its customers, some of which effectively evolve through decades. Theresa Markiewicz (TM), Product/Project Manager at BroadVision Inc., has recently given an interview to a Clutch.co analyst (CA) about her experience with...
World's #1 software engineering outsourcing provider:
fully-managed dedicated teams and projects;
new software development, sustaining engineering, software testing