This year, Auriga is celebrating its 30th anniversary. Three decades ago, Dr. Alexis Sukharev, the Moscow State University (MSU) professor, founded Auriga. His academic mindset and constant thirst for practical knowledge gave rise to one of the fundamental values of Auriga's corporate culture: continuous self-development and education.
Auriga has its corporate Training Center and a virtual educational platform called A-training where both our current employees and any interested applicants can gain knowledge on IT and consulting and put it into practice under the guidance of Auriga's experts. Our Training Center's launching point went hand in hand with our course on Linux Kernel, which rapidly achieved recognition and has been consistently gaining popularity. In 2021, the program attracted a record number of students: 232 people signed up, and 60+ people were present at each class.
Linux Kernel Course
The renowned Linux Kernel course was first launched at MSU back in 2005 based on Auriga's 15 years of experience in software development, Linux kernel, and embedded and system-level development. The course started to draw attention, and in 2006, our experts travelled to Pune, India, to deliver lectures on Linux kernel at India's International Institute of Information Technology (I2IT).
I2IT and training attendees highly evaluated the Linux Kernel course and the professionalism of Auriga's experts. The trainees who participated in this program represented blue-chip IT companies and engineering colleges, such as IBM, Mindtree Consulting, Symantec Corp, ETH, Divinet, and Triumph Systems. The course results and the positive feedback received demonstrated that the demand for Auriga's expertise was high and inspired us to share our knowledge further.
In the first two years, 100 people took the course, and 30 of them later worked for Auriga. We continued to give lectures on Linux kernel at top Russian universities, including MSU and Bauman Moscow State Technical University (MSTU). Over the years, we have been rearranging and adapting the course to keep up with the times and emerging technologies. The latest version of the course is now online and available for anyone keen on acquiring knowledge of software development.
Auriga's Training Center
Created in 2007 based on our Linux Kernel course experience, Auriga's Training Center immediately yielded significant results in terms of sharing our knowledge on software development and attracting the best IT talents to the company. The Training Center develops and implements internal and external training programs to provide knowledge of modern technologies used in Auriga's ongoing projects. Some of the most popular educational programs include "Development of Simulation Models of Peripheral Devices," "CppDive. C++," and "Junior Software Testing Engineer Training."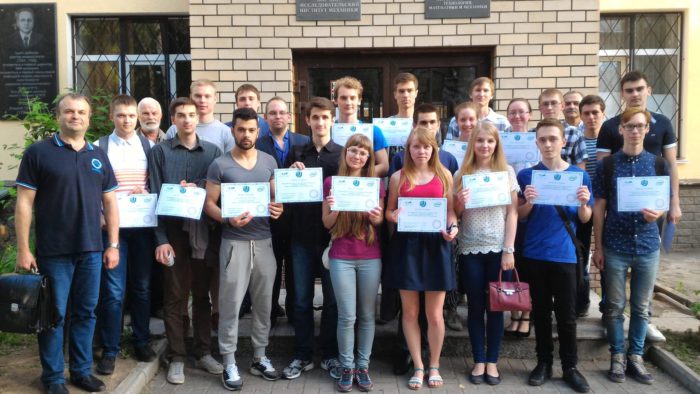 University students with Auriga's training course certificates.
In 2017, Auriga's Training Center launched a new A-training educational initiative, making our unique internal programs available to anyone eager to learn and improve their skills. A-training is an educational platform offering users the chance to discuss the hot topics in software development and testing, explore new tools and innovations, try best practices, and boost personal effectiveness.
During the COVID-19 pandemic, the A-training webinars have been a tremendous educational opportunity. Some of the webinars we have presented recently were dedicated to ARMv8, Make, Git, Hyperledger Fabric, neural networks, business communication, and many other topics. In 2020 alone, we ran 59 different educational programs, which were free and open to all.
Sergey Ryby, Head of Auriga's Training Center, commented:
I am genuinely happy to see that Auriga not only accumulates knowledge but transmits it to others in such a palatable form that it attracts a greater number of attendees every year, and the Linux Kernel course is such an example. Development and education are core values in our company. It is not in our nature to hoard knowledge; we are eager to share it with the world.