Auriga is honored to announce that Auriga Baltics, the company's development center in Vilnius (Lithuania), was again awarded the Strongest in Lithuania certificate.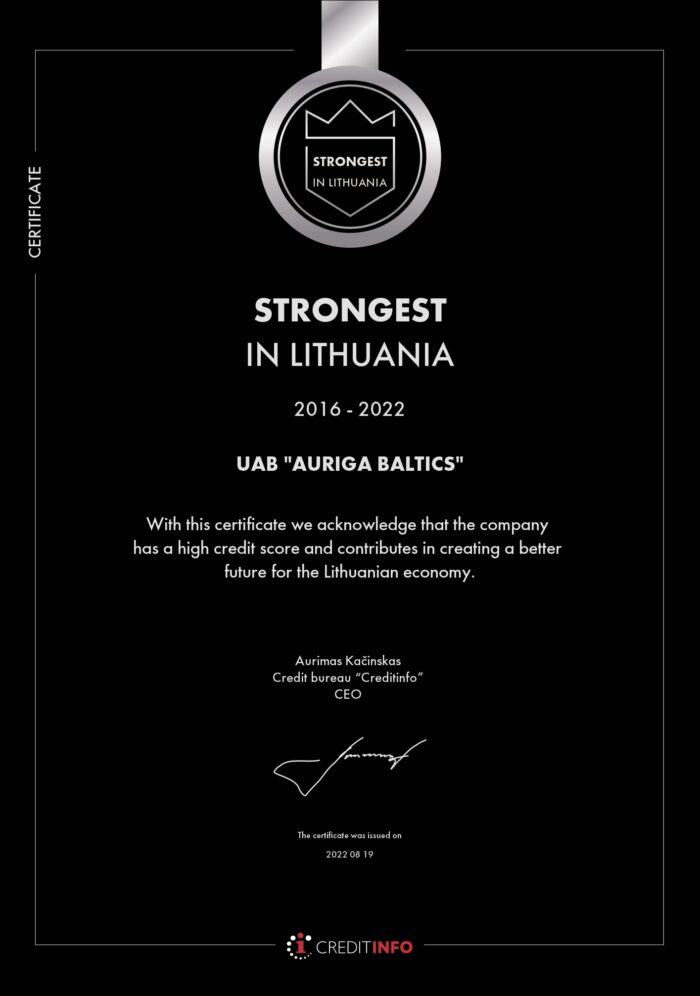 The Strongest in Lithuania certificates are issued by the credit bureau Creditinfo, which uses advanced econometric methods to strictly assess the candidate companies. The crucial assessment criterion is a high solvency rate, which indicates a low risk of the company not meeting its financial obligations for 90 or more days in the upcoming 12-month period. The company's solvency rate is evaluated based on its credit history, financial results and changes, business connections, and asset seizure
Auriga Inc. opened its development center in Vilnius in 2010. Over the past 12 years, we have created over 100 job positions, attracted large multinational medical device manufacturers-our clients-to Lithuania, and launched dozens of embedded and enterprise projects implementing cutting-edge, challenging technologies. We have created a prosperous, financially stable company that has been awarded the Strongest in Lithuania certificate by Creditinfo annually since 2015. Only the most economically sound, stable, and reliable companies that fulfill all of their obligations on time in Lithuania, amounting to 4% of all companies in the country, have been rated at the same level.
Our choice of location was very important. For our clients, especially those in the UK, Germany, Austria, and Switzerland, nearshoring to Lithuania is a perfect solution. Lithuania is a globally recognized player, having been ranked #1 in the Tech Start-up FDI Attraction Index in 2019 and #11 in the World Bank's Doing Business Index in 2020. In addition to our significant budget savings and financial stability, we offer access to the best and most trustworthy tech talent and rare or niche skills that are not available in house. Lithuania's labour capacity amounts to 38,000 IT specialists with an impressive level of English proficiency, 27,000 being professional software developers. Vilnius is also a very convenient location, as it is only a short one- to three-hour flight from most major European capitals. If urgent onsite work is needed, our engineers can visit the customer's office in 24 hours without wasting time on visa formalities.
Auriga's main goal for the next several years is to become a technology partner for medical device manufacturers and silicon vendors in embedded and system-level development, bringing new technologies and creating new jobs. Auriga Inc. is actively working on expanding our service offers and exploring the new market for intelligent tech, cloud, DevOps, telemedicine, machine learning, and industrial automation.
Learn more about Auriga Baltics on our website. If you would like to discuss a project, contact Auriga's experts directly using our contact form.