HIMSS21, the first offline healthcare conference since the COVID-19 pandemic began, took place August 9–13, 2021. As an active contributor to the healthcare industry with 17 years of experience in medical software development, Auriga obviously had to attend the conference to discuss the latest industry updates, learn about healthcare innovations, and contact potential partners.
The Healthcare Information and Management Systems Society (HIMSS) is a mission-driven, non-profit organization acting as a global advisor, thought leader, and member association with broad expertise in health innovation. Every year, HIMSS experts and healthcare professionals organize the most influential and large-scale conferences in this domain.
HIMSS21 was the first global healthcare event offered both digitally and in-person simultaneously. However, it couldn't avoid the consequences of the pandemic; only 19,300 people attended the conference in person and 5,000 connected online. That's compared to 43,000 registrants at 2019's event.
Nevertheless, although HIMSS21 was unable to attract its usual numbers, it was full of big names, healthcare innovations, and insightful discussions. Some of the most interesting panels at the conference included topics such as dealing with the COVID-19 global crisis and other population health issues, healthcare cybersecurity resilience, the importance of interoperability in healthcare, and health equity issues.
Yuri Kirkel, Executive Vice President at Auriga, comments:
Healthcare is one of Auriga's strategic domains. We are especially good at medical software, given our 17 years of experience in that domain. As they say, the sky's the limit, so we use every chance to deepen our expertise to deliver better software in mission-critical areas such as healthcare and medical devices."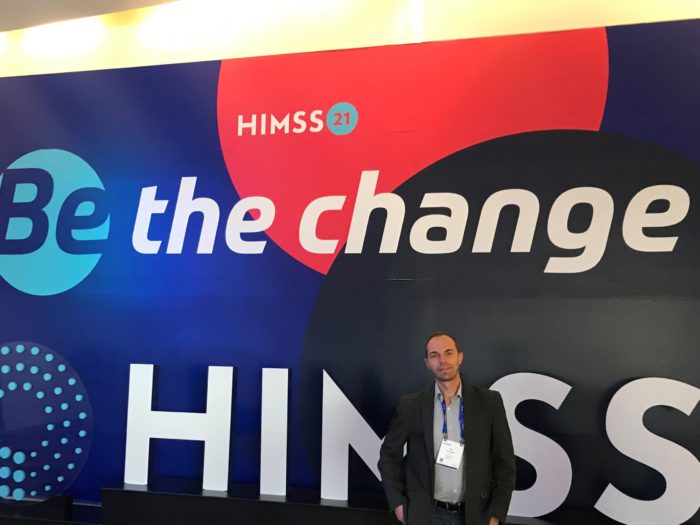 Yuri Kirkel, Executive Vice President at Auriga at HIMSS21
Auriga at HIMSS22
Auriga is looking forward to the next HIMSS conference and trade show, which will occur in Orlando on March 14–18, 2022. If you missed the chance to connect with us at HIMSS21, you can explore our online portfolio of medical device and digital health projects. Don't hesitate to contact us directly with any questions, requests, or ideas you may have for future healthcare projects.