CASE STUDY
Cloud Backend for Construction Professionals' Mobile App

Scope
A multinational manufacturer of products for construction contracted Auriga's team to develop a distributed cloud-based backend for a mobile application used by construction professionals.

Projects Highlights
Cloud-based distributed architecture design.
EC2 to host virtual servers.
Amazon DynamoDB – noSQL storage for key-value data pairs to secure system scalability developed.
Amazon S3 deployed for simple and fast data storage.
SNS services implemented for push-up notifications and text messages.
Automated functional testing implemented.

Achieved Benefits
Safe fault-tolerant storage of data developed and deployed following rigorous customer security policy guidelines.
One-point instant access to ~100K items in online catalogue.
Flexible and customizable storage makes DB maintenance highly manageable.
Technologies
Objective-C  ·  Java  ·  Java Spring
AWS dynamoDB  ·  AWS EC2
AWS S3  ·  AWS SNS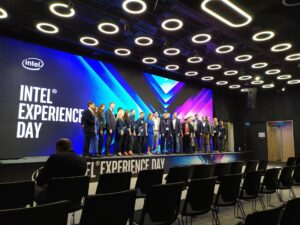 Auriga Attends Intel Experience Day 2019
Intel Experience Day 2019, organized by Intel, one of the major innovative hardware and technology corporations worldwide, took place in Moscow at the end of
Auriga Presents at Digitalization 2019 Forum
The second Digitalization Forum took place at Lomonosov Moscow State University, Moscow, Russia, at the end of October. The forum gathered together Russian and international...
BroadVision: "Auriga Is a Core Component of Our Team"
One of Auriga's goals is establishing long-term trustful partnerships with its customers, some of which effectively evolve through decades. Theresa Markiewicz (TM), Product/Project Manager at BroadVision Inc., has recently given an interview to a Clutch.co analyst (CA) about her experience with...