CASE STUDY
Real-Time Video Transcoding Service

Scope
A leader in the smartphone industry tasked Auriga to develop a prototype for the first-of-a-kind smart video streaming app that adjusts to the channel throughput and end device specifications (screen size) on the fly.

Projects Highlights
Amazon S3, EC2, and Elastic Balancer used for file storage, playback, and scalability.
Real-time FLV/H.264 with MP3, AAC encoding.
Flexible performance scaling.
Smart and flexible cache.
Fail-safe operation: external watchdog and internal status monitoring; safe restart on failure.

Achieved Benefits
Prototype delivered in very short terms (2 months).
Developed prototype became a commercial TV-on demand solution distributed with the Customer's flagship device.
iOS, Android, and Web clients support implemented.
Technologies
Linux  ·  C/C++  ·  HTTP, RTSP
H.264 (ffmpeg), FLV, MP4
Amazon EC2  ·  Amazon S3
Amazon Elastic Balancer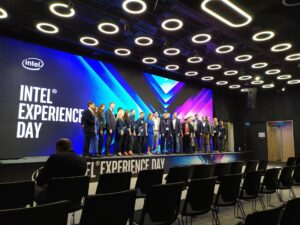 Auriga Attends Intel Experience Day 2019
Intel Experience Day 2019, organized by Intel, one of the major innovative hardware and technology corporations worldwide, took place in Moscow at the end of
Auriga Presents at Digitalization 2019 Forum
The second Digitalization Forum took place at Lomonosov Moscow State University, Moscow, Russia, at the end of October. The forum gathered together Russian and international...
BroadVision: "Auriga Is a Core Component of Our Team"
One of Auriga's goals is establishing long-term trustful partnerships with its customers, some of which effectively evolve through decades. Theresa Markiewicz (TM), Product/Project Manager at BroadVision Inc., has recently given an interview to a Clutch.co analyst (CA) about her experience with...