CASE STUDY
Cloud Storage for Energy Efficiency Audit Solution

Scope
US-based energy saving company tasked Auriga to build a cloud-based data warehouse optimized for analytics and scalability.

Projects Highlights
EC2 deployed to host virtual servers for web-services, apps.
S3 to store the content.
SQS as a message queuing service. 
SNS for push-up notifications and message exchange.
Amazon RDS to operate and scale relational DB (Oracle).
ElastiCache for data cache processing (temporary storage).
CloudWatch for monitoring and logging cloud resources.

Achieved Benefits
Reliable, scalable and secure storage of all types of data to cover the entire audit process.
Reduced the data propagation by 3x times and database access times 7-fold.
Instant automated environment deployment and configuration using CloudFormation.
Technologies
JavaScript  ·  Oracle
Amazon EC2, S3, SQS, SNS
Amazon RDS  ·  Redshift
ElastiCache  ·  CloudFormation
CloudWatch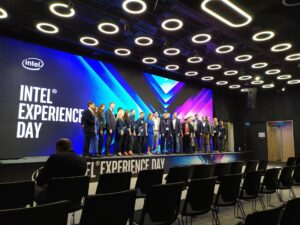 Auriga Attends Intel Experience Day 2019
Intel Experience Day 2019, organized by Intel, one of the major innovative hardware and technology corporations worldwide, took place in Moscow at the end of
Auriga Presents at Digitalization 2019 Forum
The second Digitalization Forum took place at Lomonosov Moscow State University, Moscow, Russia, at the end of October. The forum gathered together Russian and international...
BroadVision: "Auriga Is a Core Component of Our Team"
One of Auriga's goals is establishing long-term trustful partnerships with its customers, some of which effectively evolve through decades. Theresa Markiewicz (TM), Product/Project Manager at BroadVision Inc., has recently given an interview to a Clutch.co analyst (CA) about her experience with...