CASE STUDY
Large-Scaled IT Educational Web-Portal

Scope
A worldwide recognized leader in IT industry tasked Auriga to provide 360° support for its IT educational large-scale web-portal with 100K+ users, including introducing new online services, performance optimization and support.

Projects Highlights
PHP code refactoring.
Apache -> Nginx migration.
SQL requests optimization.
Architecture design optimization, migration to n-server distributed system and load-balancer deployment.
Centralized logging system implemented.
Certificate creation and printing tool created.
Vimeo video hosting deployed.
Mirapolis tool implemented for webinars.

Achieved Benefits
Team registration feature implemented to make it convenient for large teams to participate in the online events.
Videoconferencing solution implemented to enhance visitor's experience.
Users complaints for errors and lagging decreased significantly.
More that 1000 webinars and workshops held after launch of the new service.
Technologies
PHP  ·  HTML5  ·  JS  ·  jQuery
Bootstrap  ·  Apache  ·  Nginx
MySQL  ·  Linux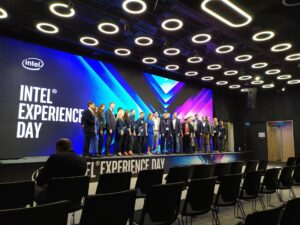 Auriga Attends Intel Experience Day 2019
Intel Experience Day 2019, organized by Intel, one of the major innovative hardware and technology corporations worldwide, took place in Moscow at the end of
Auriga Presents at Digitalization 2019 Forum
The second Digitalization Forum took place at Lomonosov Moscow State University, Moscow, Russia, at the end of October. The forum gathered together Russian and international...
BroadVision: "Auriga Is a Core Component of Our Team"
One of Auriga's goals is establishing long-term trustful partnerships with its customers, some of which effectively evolve through decades. Theresa Markiewicz (TM), Product/Project Manager at BroadVision Inc., has recently given an interview to a Clutch.co analyst (CA) about her experience with...